Solidarity With The Palestinian People : A Memorandum To United Nations
Dec 01, 2019
Hit: 677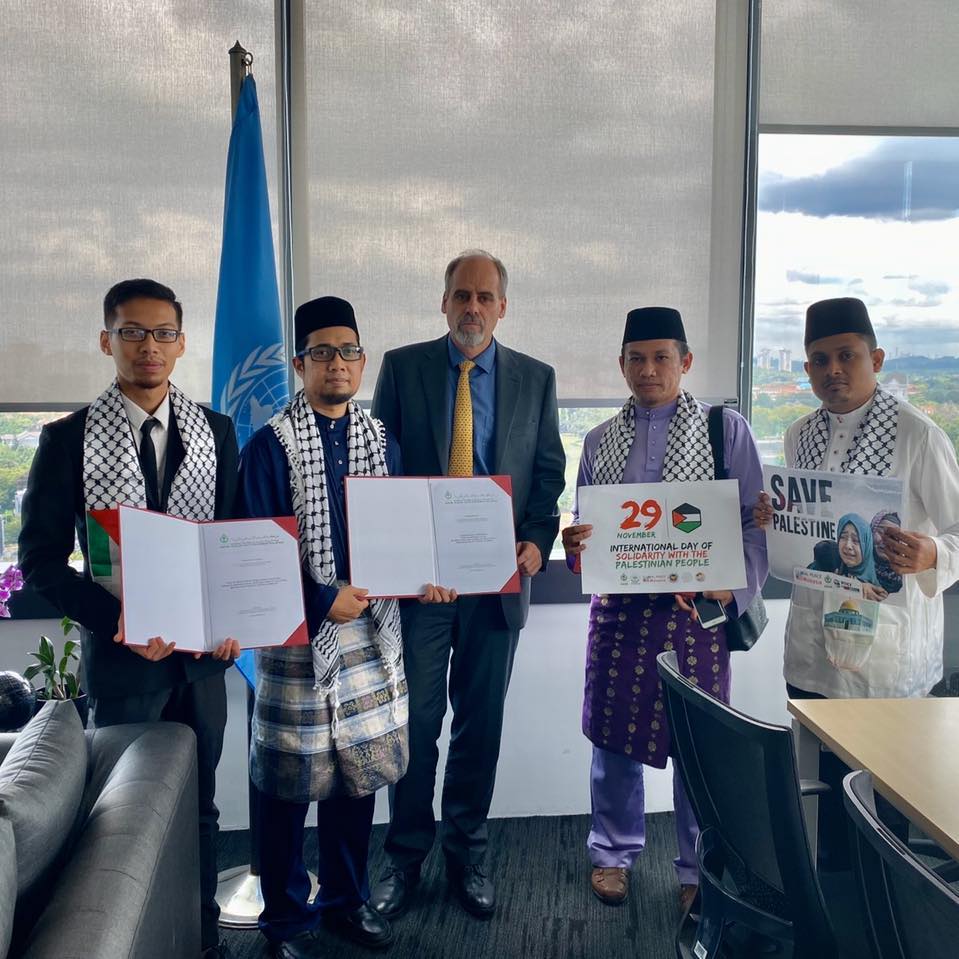 29 November 2019
His Excellency Hon António Guterres
Secretary General United Nations
Through: Yang Berbahagia Mr. Stefan Priesner
United Nations Resident Coordinator
United Nations Malaysia, Level 10, Menara PjH,
No 2, Jalan Tun Abdul Razak
Precinct 2, 62100 Putrajaya, Malaysia..


Hon. Secretary General, SUBJECT: MEMORANDUM OF SUPPORT

On this day of International Day of Solidarity with the Palestinian People dated 26th November 2019 as gazetted via Resolution 32/40B by the United Nations, we the Muslim Youth Movement Malaysia (ABIM) together with Civil Society Organizations (CSOs) in Malaysia declare our stance to the world that we solidly support the cause of the Palestinian people in liberating their homeland which is under the occupation of Israeli regime.

We also would like to express our full support to your commitments to take effective measures in order to maintain peace in Palestine following the tragic illegal occupation of Zionist Regime in the territory since 1948.
At the same time, we applaud significant actions taken by the United Nations particularly in advocacy by a series of condemnation of atrocities, war crimes, transgression, and disproportionate use of force by Israeli Security Forces against Palestinian people, particularly through United Nations Committee on the Exercise of the Inalienable Rights of the Palestinian People.

However, given the perpetual acts of violence by Israel, we would further like to express our legitimate concern pertaining to this tragedy.

1. The Israeli regime has been deliberately and continuously enforcing severe restrictions on the Palestinians" fundamental rights, including the sanction towards their right of movement, their goods to be brought in and out of the Gaza boundaries, and facilitating the illegal move of Israeli citizens to the new settlement in West Bank.

2. The systematic and modern colonization of Palestine by the Israeli regime for the past seven decades has brought about nothing short of a socio-political turmoil in the Western Asia region. The numbers of death toll are increasing year by year, while negotiation processes remain a state of impasse.

Hence, we call upon United Nations on behalf of all international communities to uphold the cause for justice and freedom of Palestine through:

a. Enforcing UNSC Resolution 2334. Pursuant to Chapter VII of UN Charter, UN Security Council bears the responsibility for the maintenance of international peace and security and therefore is obliged to take prompt action to refer the crimes committed by Israel in conjunction with the UNSC Resolution 2334 to International Criminal Court (ICC) adopted on 23rd December 2016.

b. Prosecuting Israel in the International Criminal Court. Resolution 2334 reaffirmed the UNSC"s stand that the establishment by Israel of settlements in the Palestinian territory occupied since 1967, including East Jerusalem, is illegal and constitutes a flagrant violation under international laws. The resolution serves as a strong basis for the OTP to request authorization from the ICC pre-trial chamber for its office to initiate an investigation into the alleged crimes of Israel against Palestinians in accordance with Article 15 (1) of the Rome Statute.

Taking more assertive actions by executing the resolutions reached in the United Nations General Assembly (UNGA). Though the status of UN Resolutions are nonbinding and recommendatory in nature, the reports released by the "UN Special Committee to investigate Israeli Practices Affecting the Human Rights of the Palestinian People and other Arabs of the Occupied Territories" and the "The Committee on the Exercise of the Inalienable Rights of the Palestinian People" had gathered sufficient evidence to justify a firm exhortation against Israel and strip its membership from the UN.

d. Defending the rights of the aggrieved Palestinians especially their rights to worship freely in Al-Aqsa mosque without any interference by the Israeli regime, and to preserve the important sites of Al-Aqsa without any irresponsible destruction by the Zionists.

e. Empowering humanitarian missions by facilitating humanitarian agencies under United Nations and humanitarian NGOs such as Global Peace Mission Malaysia (GPM) to hand aids to fulfill the basic needs of the Palestinians.



Dear Hon Secretary General, We urge the whole world to strongly condemn the savage acts of Israel which contradict the very foundation of human rights and justice. We also call on all Malaysians to keep engaging with the United Nations with regards to the issue of Palestine and to work hand in hand in finding solutions to this issue. We hope both will continue to share the same spirit. "Upholding Truth & Justice"

MUSLIM YOUTH MOVEMENT MALAYSIA (ABIM)

Supported by:
Malaysian Youth Council (MBM) National Union of Malaysia Muslims Students (PKPIM) Association of Southeast Asia Muslim Students (PEPIAT)